Register here for FREE and keep in touch with your fellow Wyandotte Alumni.




Visit the Dog Pound to view and post messages with fellow Wyandotte Alumni. Must be logged in to use.



Click Here to view list of departed Alumni.



Questions or Problems please .




Welcome Bulldogs!
This is some video I shot of Wyandotte High School recently.



Welcome to the Quiverian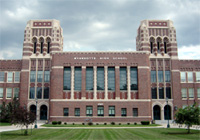 Your
FREE
Wyandotte High School Alumni online directory.
If you attended Wyandotte but graduated elsewhere please register on
RememberHighSchool.com
under your graduating school. You will still be able to fully interact with your Wyandotte classmates.
Reunion News
You must be registered and logged in to view reunion information.
Newest Members
| | |
| --- | --- |
| Carl Johnson | 1983 |
| Stacy Sewell | 1990 |
| Verna Jones | 1988 |
| Ronnie Meggs | 1968 |
| Michael Cashman | 1967 |
| David Campbell | 2002 |
| Misty Reyes | 2003 |
| Marvin Bryant | 1985 |
| Jonathan Ruiz | 2015 |
| Richard Pickard | 1962 |
| Joseph Saale | 2010 |
| Brian Smith | 1968 |
| Alayah Womack | 2015 |
| Stephen Anglen | 1973 |
| Carmen Aguilar | 1968 |
| Donald Harrison | 1967 |
| Jim Reid | 1963 |
| Sharon Milam | 1962 |
| Nichelle Hammons | 1986 |
| Carl Eberhart | 1958 |
Site Announcements

Craig Delich is proud to announce that the premiere for his new book, "Images From the History of Wyandotte High School", will take place at Wyandotte, 2501 Minnesota Avenue, Kansas City, in the auditorium from 1-4pm, on Wednesday December 16th.

There will be a program that takes place. We hope to include, among the speakers, Wyandotte Principal Mary Stewart, Kansas City Kansas School Superintendent Dr. Cyndi Lane, School Board President Dr. Hill, Donning Book Project Manager Barry Haire, a high executive from Walsworth/Donning Publishers (who printed the book), and others, including the book's author, Craig Delich.

Every attendee at this preview will receive a very nice 8" x 10" photo, suitable for framing as our thanks for coming.

There will be time available to meet the author, buy a book, and get it autographed if desired. "Wyandotte Memories" and "Wyandotte Forever" CDs (which were included in the first 250 copies of the book) will be available by any donation made to the school.

The book is phenominal and it is something every true Bulldog will want to own for themselves. Make plans now to attend! And tell others about this great, once in a lifetime event.

Click here for more information
Upcoming Events
There are no current events scheduled.

Latest Board Posts
You must be registered and logged in to view and post messages.
Today's Birthdays
You must be registered and logged in to view alumni birthdays.


Login