Register here for FREE and keep in touch with your fellow Wyandotte Alumni.




Visit the Dog Pound to view and post messages with fellow Wyandotte Alumni. Must be logged in to use.



Click Here to view list of departed Alumni.



Questions or Problems please .





Quivierian.com is happy to announce that a new book on Wyandotte, titled "Images From the History of Wyandotte High School", by school historian, Craig Delich, a Class of 1965 grad, and a teacher at Big Red from 1982-2002, is NOW available for pre-ordering.

It will be HC with illustrated DJ, 240 pages and contain 400+ color and B/W images of Big Red, to include vintage photos, floor plans, charts, maps, school memorabilia, transit, city scenes, tons of vintage ads from the times, and a special "places we went" section.....and more. This book is a generational history, encompassing all venues of Wyandotte, from Riverview to Wyandotte Academy to 9th and Minnesota and finally to 25th and Minnesota. The photos and other things portrayed in the book have rarely if ever been seen before, and the book is artfully done to encompass a method of printing not seen in a book before. Craig has amassed enough material for a Volume 2.

No book had ever been done on Wyandotte before, and if you are a true Bulldog, you can't do without this book. Pre-publication price will be $34.95. It will be available in late Fall, before Christmas.

To order your book click on the image below to download the order form or click this link www.donning.com/wyandottebook to order directly from the publisher, Donning, via PayPal.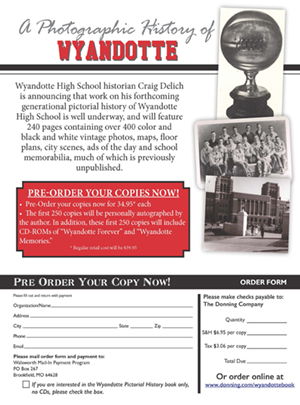 IF you prefer to order by mail (check or money order), contact Craig at craigdelich@yahoo.com, provide your name and address, and he will mail you a flyer that you can use to order the book by mail.

The book is a limted edition of 3000, and the first 250 copies will be numbered and hand signed by me, AND include TWO bonus CD-ROMs: "Wyandotte Forever" and "Wyandotte Memories".

Order today! If you have any questions, please contact Craig at craigdelich@yahoo.com.

And don't forget to like the book on Facebook.